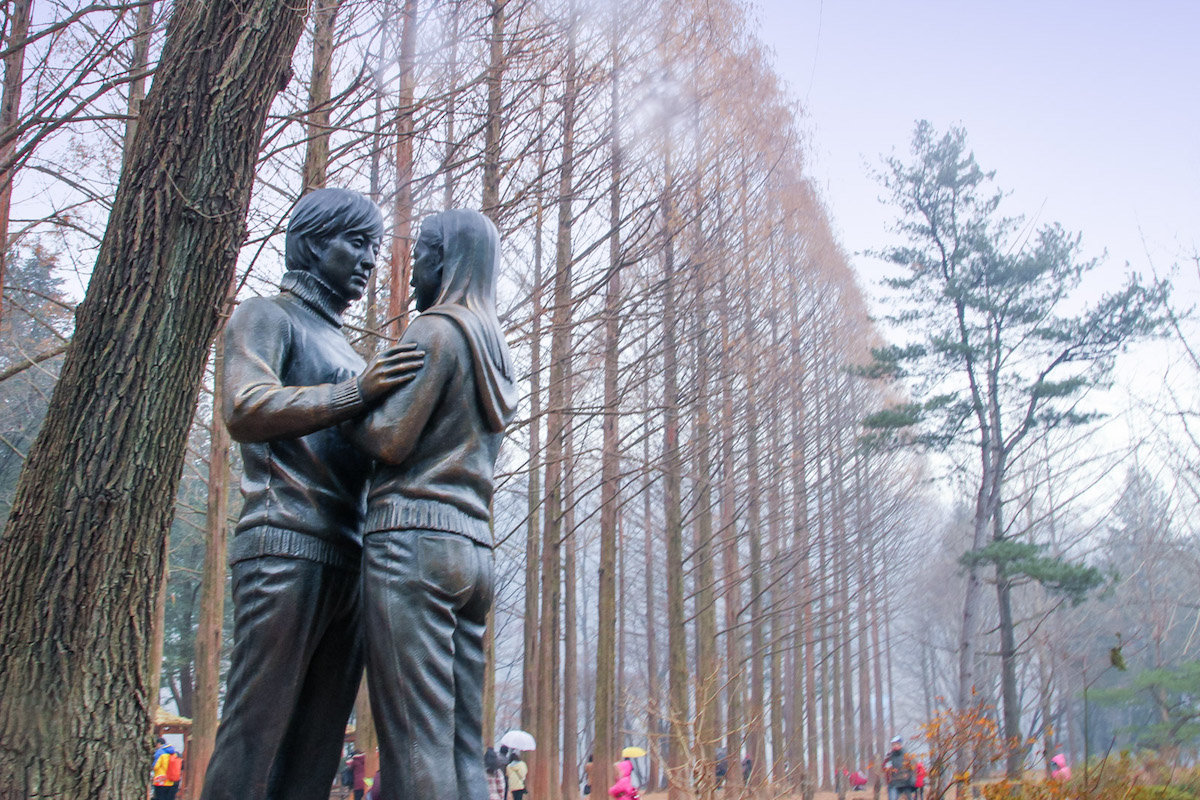 Trip Ke Korea Murah
  KOREA WINTER SKI SONATA 5D
                                                        ( Nami Island –  Ski Resort - Seoul)
HIGHLIGHT: Jembatan Kaca Soyanggang Sky Walk, Gyeongbok Palace,
Kimchi Making & Hanbok Wearing
Hari 01: JAKARTA – INCHEON           (No Meal)     ñ CGK (2325) – ICN (08.30+1)  by GA878
Malam ini kita berkumpul di Soekarno-Hatta terminal 2E untuk berangkat menuju ke Incheon
Bermalam di pesawat
Hari 02: INCHEON  - NAMI ISLAND – SKI RESORT – SEOUL            (Makan Siang, Malam)
Sesampainya kita akan langsung diajak melihat keindahan Danau Uiamho dari jembatan kaca SOYANGGANG SKYWALK. Dilanjutkan menuju ke NAMI ISLAND yang merupakan tempat shooting film drama "Winter Sonata". Setelah makan siang perjalanan dilanjutkan menuju ke SKI RESORT (tidak termasuk peralatan ski), setelah selesai kita akan menuju ke Seoul
Bermalam di  INTERCITY HOTEL ***/similar
Hari 03 : SEOUL CITY TOUR           (Makan Pagi, Siang)
Sarapan pagi di hotel. Lalu kita akan mengunjungi kita akan city tour melewati The Blue House, mengunjungi Gyeongbok Palace, National Folk Museum. Dilanjutkan mengunjungi N-SEOUL TOWER & LOVE LOCK (gembok cinta), kemudian kita akan berkesempatan memakai pakaian khas Korea (HANBOK) dan belajar cara membuat KIMCHI. Setelah selesai kita akan melewati CHEONGGYECHEON STREAM dan shopping di ITAEWON STREET (bagi peserta Muslim dapat berfoto di Masjid Central yang ada di lokasi ini) & DONGDAEMUN FASHION MALL
Bermalam di INTERCITY HOTEL *** / similar
Hari 04: SEOUL CITY TOUR          (Makan Pagi, Siang)          
Setelah sarapan pagi di hotel, kita akan mengunjungi NAMSAN HANOK VILLAGE, Ginseng Outlet, Cosmetic Shop, Red Pine Shop, Raisin Tree Shop, Duty Free Shop, shopping di HONGDAE STREET & MYEONGDONG SHOPPING DICTRICT
Bermalam di INTERCITY HOTEL *** / similar
Hari 05: SEOUL -  JAKARTA           (Makan Pagi)          ñ  ICN (1035) – CGK (1545) by GA879   
Setelah sarapan pagi di hotel. Acara bebas. Setelah check-out kita akan shopping di Korean Food & Souvernir Supermarket untuk berbelanja oleh-oleh sebelum ke Incheon Airport. Sampai waktunya akan diantar ke hotel untuk kembali ke Jakarta, dan sampai berjumpa di acara tour selanjutnya
Keberangkatan Minimal 20Pax (Didampingi Tour Leader dari Jakarta)
Keberangkatan

Dewasa (Twin/Triple)

Anak with Extra Bed

Anak + 2 Dewasa

 No Bed

Single Supp

19 Jan 2018

Rp 7.200.000

Rp 6.900.000

Rp 6.600.000

+ Rp2.000.000
Harga Termasuk

Harga Tidak Termasuk

ü  Tiket International CGK-ICN-CGK by GARUDA , Economy  

ü Bagasi 20 Kg sesuai dengan peraturan penerbangan

ü Akomodasi hotel *3 atau setaraf (Twin / Triple)

ü Transportasi bus ber-AC & tiket masuk objek wisata

ü Acara Tour & makan sesuai program paket tour diatas

 

•  Intl Tax + YQ : Rp 1.350.000/pax (subj to change)

•  Tipping T/L, Local guide, Driver : Rp 490.000/Pax

•  Visa Korea (single entry)       : Rp 650.000/orang (non-refund)

•  Pengurusan Document perjalanan : Passport

•  Tips Porter Hotel, Mini Bar, Laundry, Telp dll.
MAIN & MARKETING OFFICE:
Komplek Puri Cipageran Indah, Cimahi
CONTACT PERSON:
Tlp : 08123 6909 972/ WA : 0821 1525 3789

PIN BBM : 5B4A3CBF
Website Official : Amazing Trip Planner
Email : amazingtripplanner@gmail.com
Provider EO Outbound Bandung - Outbound Lembang
Visit : Tour And Travel Bandung, Tour Bandung, Bandung Tour, Wisata Bandung, Outbound, Outbound Bandung, Bandung Outbound, Outbound Lembang, Lembang Outbound, Outbound Lembang Bandung, Outbound Bandung Lembang, Paket Tour Domestik, Paket Tour Luar Negeri, Paket Tour Internasional, Paket Tour Mancanegara, Tour And Travel Singapore, Tour Singapura, Tour Lombok, Tour Bali, Tour Pangandaran, Tour Pulau Komodo, Tour Raja Ampat, Tour Aceh, Tour Sumatera, Tour Lampung, Tour Medan, Tour Padang, Tour Jawa, Tour Bangka Belitung, Bandung, Lembang, Thailand Tour, Taiwan Tour, China Tour, Hongkong Tour, Jepang Tour, Eropa Tour, Brunei Tour, Malaysia Tour, Tour 3 Negara, Tour 2 Negara,  Offroad, Paint ball,  Outbound Training,  Outbound Kid's,  Rafting, Arung Jeram, Gathering, Highrope, Team Building,  Outbond,  EO,  EO Outbound,  Provider EO Outrbound, Tempat Wisata Bandung, Tour Bandung Murah,  Jalan-jalan di Bandung,  
Visit :  Paket Tour Singapore 3H 2M, Tour Singapore, Legoland, Singapura, Malaysia, orchard road, bugis, casino marina sand, hotel fragrance pearl, word resot sentosa, universal studio, siloso beach, palawan beach, song of the sea, duty free shop, merlion park, gardens by the bay, agen perjalanan bandung singapur, tour and travel bandung singapore, tour, tour and travel, bandung tour, tour and travel bandung, singapore
Visit : Tour And Travel Bandung, Tour Bandung, Bandung Tour, Wisata Bandung, Outbound, Outbound Bandung,